The High Country Shopper has long been an advocate of the shop local movement which is paramount to the support of our local economy. This holiday shopping season, we have partnered with the Delta Area Chamber of Commerce, as well as the Hotchkiss, Paonia and Crawford chambers, to present Hometown Shopopoly. Play Shopopoly while shopping at select area businesses and receive stamps for your game board, located on the centerfold of this year's Holiday Handbook.   Support local businesses and win prizes!  
     Take your game boards to participating businesses, spend a minimum of $10 at that location, and receive a stamp for that square. The more you shop, the more chances to win over $1,200 in prizes. The contest is open from Friday, November 26 through Friday, December 3 – giving contestants a week of shopping opportunities. 
Collect entries by completing Shopopoly groups. A group is defined as two, three, or four squares identified by the same color or Christmas icon, such as holly leaves in the four corners, three red squares, or two red trucks. The more entries you collect, the better your odds are to win a prize. Customers must complete at least one group to be eligible for prizes. One game board per customer; and one stamp per square. 
     Drop off your game boards by Friday, December 3 at the following designated drop-off locations: Gambles Hardware in Hotchkiss by 5:00 pm, the Delta Area Chamber in Delta by 5:00 pm, Big John's in Cedaredge by 5:00 pm, and the High Country Shopper in Paonia by 4:00 pm. Drawings for prizes will take place Wednesday, December 8.  Winners will be notified and do not need to be present to win. The game board with the most stamps also wins a $100 gift card!  Prize sponors are the Delta Area Chamber of Commerce, the High Country Shopper, A&M Creations, and Big John's Lumber.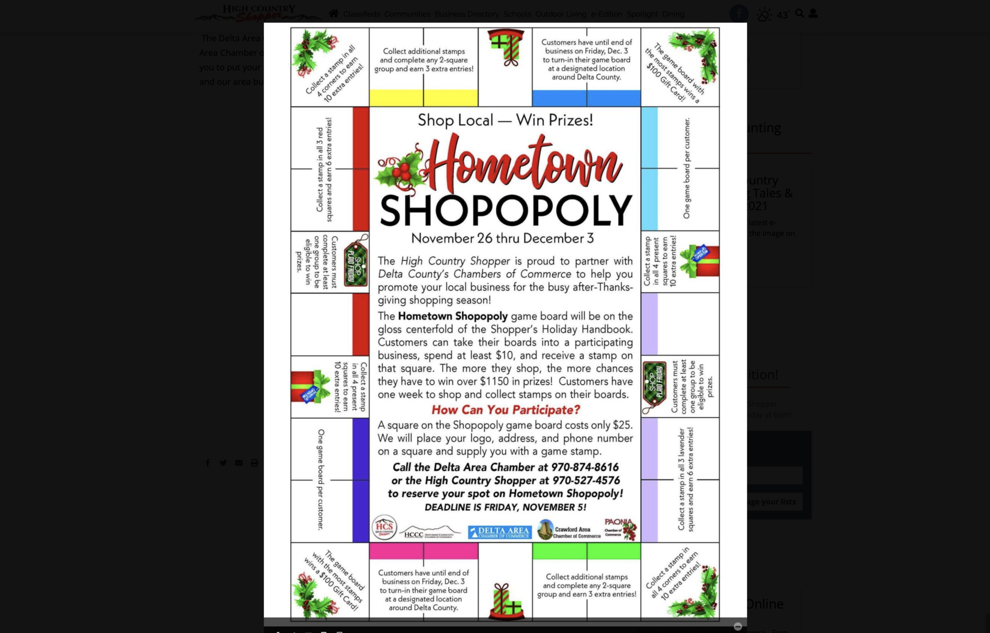 The Delta Area Chamber of Commerce, Hotchkiss Community Chamber of Commerce, Crawford Area Chamber of Commerce, Paonia Chamber of Commerce, and the High Country Shopper invite you to put your money where your heart is and play Hometown Shopopoly!  It's a win-win for you and our area businesses!