Colorado Parks and Wildlife successfully stocked a small number of pure Rio Grande Cutthroat Trout into Upper and Lower Sand Creek Lakes via helicopter on Aug. 24.
The fish used to stock the lakes came from the nearby Medano Creek drainage, which is located in the Great Sand Dunes National Preserve in the San Luis Valley. That drainage was previously restored with Rio Grande cutthroat trout in the 1980s.
By pulling trout from Medano Creek, CPW aims to accelerate the restoration project in the Sand Creek drainage by stocking a small number of adult trout capable of producing a spawn as early as 2022.
After capturing Rio Grande cutthroat trout from Medano Creek, CPW coordinated with the Colorado Division of Fire Prevention and Control to stock Upper and Lower Sand Creek Lakes from a helicopter, using the same bucket a firefighting helicopter would use to dump water onto a fire.
CPW will stock another 500 fingerling Rio Grande cutthroat trout spawned at the Monte Vista Hatchery later this year. That stocking will be completed via airplane.
"This is a challenging project, but it will provide ideal and protected habitat for these fish," said CPW Senior Aquatic Biologist John Alves. "We are on our way to rebuilding a conservation population of the Rio Grande cutthroat trout."
Last year, CPW treated the Upper Sand Creek drainage to successfully remove non-native fish.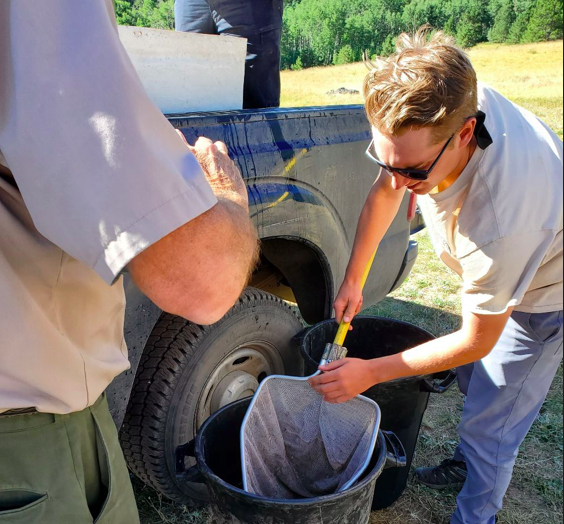 CPW, the New Mexico Department of Game and Fish, the National Park Service, U.S. Forest Service, Bureau of Land Management and Native American tribes have been working to re-establish Rio Grande cutthroats across their native range for more than 20 years. Currently, Rio Grande cutthroat can only be found in about 12% of its historic habitat. Mining, water development, intensive land-use, stocking of non-native fish and over-fishing have caused the trout's populations to decline significantly during the last 150 years.
The Rio Grande cutthroat is one of three native trout indigenous to Colorado. The Colorado River cutthroat is found on Colorado's Western Slope, and the Greenback cutthroat is found in the South Platte drainage. CPW is also working on a variety of projects to restore those populations.