The sandstone walls of Escalante and Dominguez canyons have been home to a handful of colorful residents over time. It takes a certain kind of individual to carve out an existence for themselves in the rugged and isolated landscape and there is no better example than Captain H.A. Smith, who literally carved a homestead out of the sandstone walls in Escalante Canyon. While the former Civil War hero spent much of his time alone there, he was no reclusive hermit. Captain Smith was a man of many talents with a large family,. He was a cordial host and a stalwart friend to his neighbors in the canyon. Escape from society was not his intent. It was a quietness that he sought and the silence he found there would become the soundtrack of his life's work.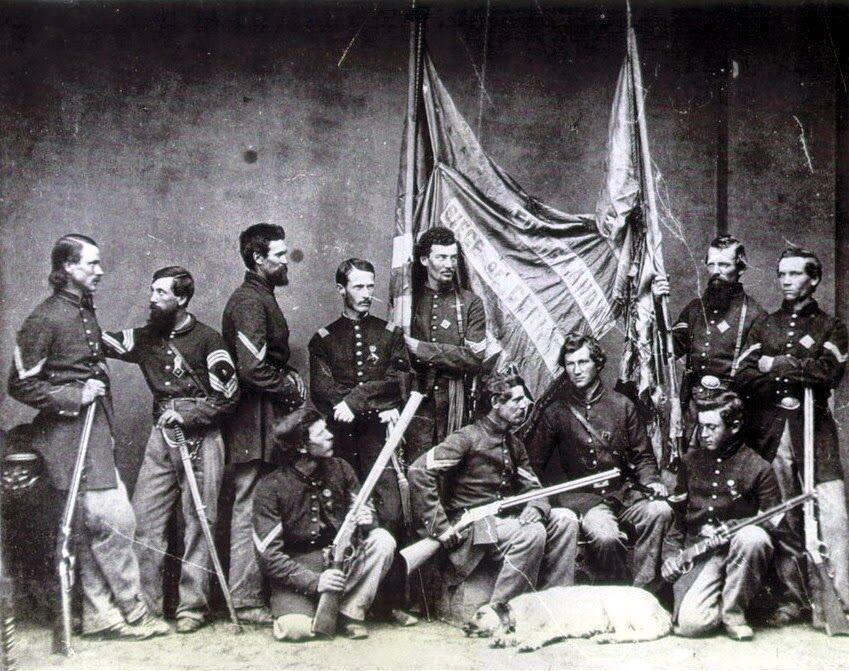 Henry Andrew Smith was born in Joliet, Illinois, in 1844 to immigrants from Scotland and Ireland. As a boy, Henry became fascinated with the arrowheads and napped flint tools he found near American Indian burial mounds on his parent's farm. He began cutting stone at a young age, working with the native marble and granite from northern Illinois. The young entrepreneur established a workshop in Joliet where he intended to run a headstone business, but the impending war with the southern states would change the course of his life for some time to come. 
     At the age of 18 and standing just shy of 6 feet tall, Smith volunteered in the Illinois Volunteers Infantry, mustering in Huntsville, Alabama on August 20, 1862. He soon was named corporal and was eventually promoted to captain and given command of his company. Smith would fight in several battles throughout the war and was even taken prisoner for a time but managed to escape his captors. The Captain took a total of three bullet wounds during his service with the Union and received an honorable discharge in 1865 when the war ended.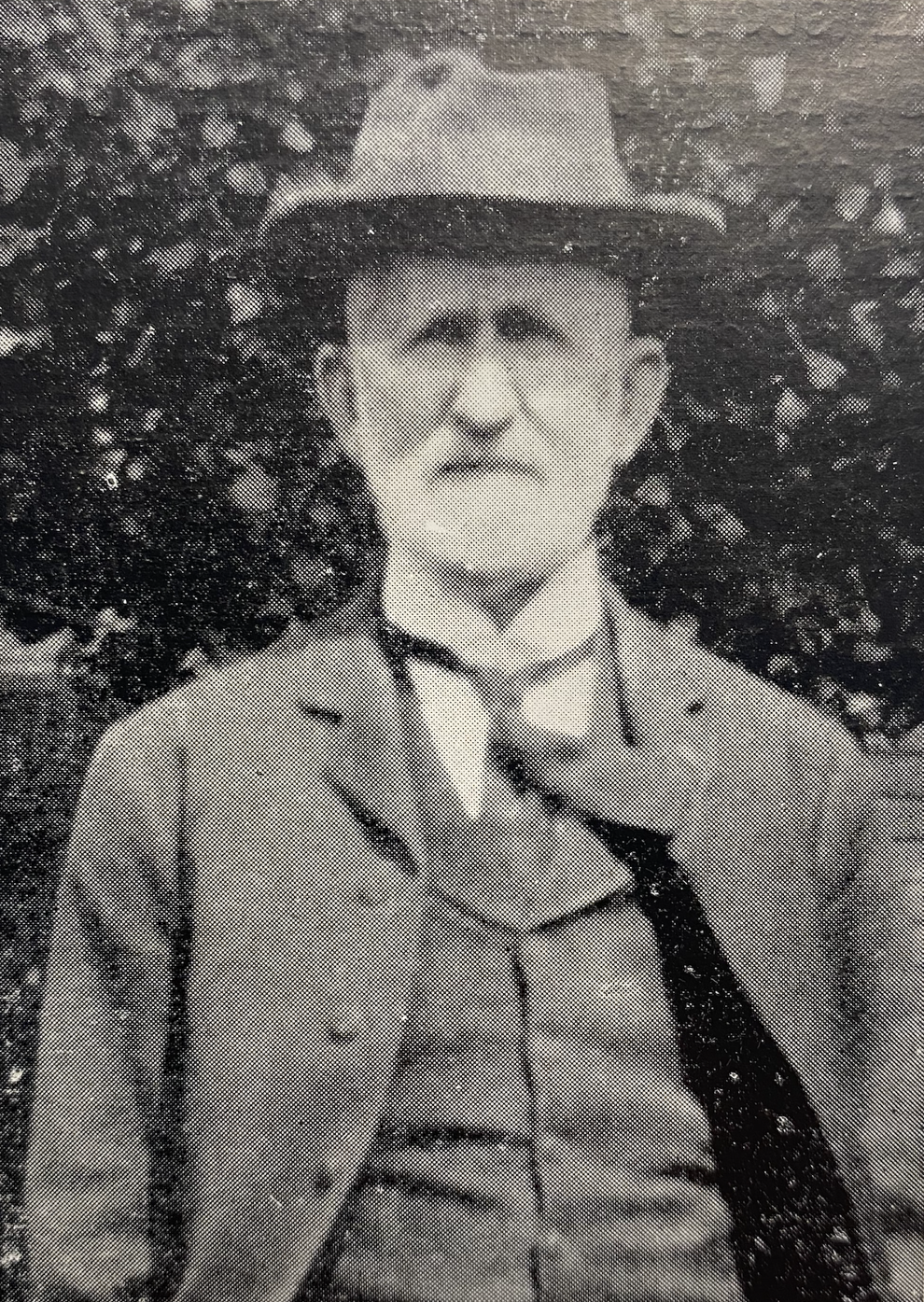 Captain Smith returned to Joliet and opened the West Joliet Granite and Marble Works company, making monuments and tombstones with a partner stone cutter. A few years later, he married Dorethea Symington whom he affectionately called Dottie. The two had eight boys together. Meanwhile, Smith's health was beginning to decline as his wounds began to catch up to him. After some deliberation, the captain set his sights on the west in search of a more agreeable climate and a quiet place where he could leave the echoes of the war behind him. He left Joliet in 1907 and found his way to a lumber camp in Colorado. Here, his interest in Indigenous people's stonework was rekindled as he was tasked with feeding the members of several displaced Native American tribespeople.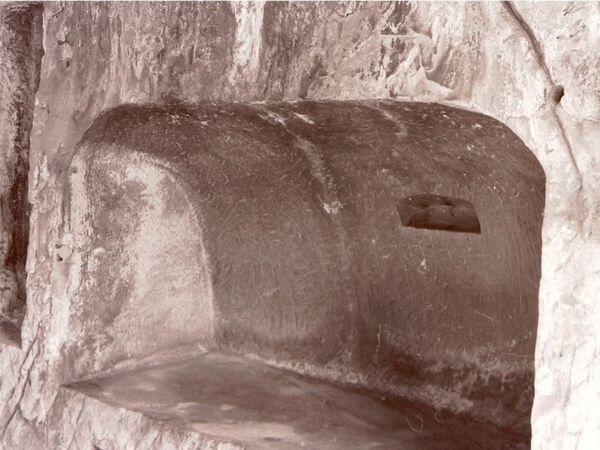 Although he had little success in befriending the stoic and serious-minded Sitting Bull, a frequent guest at the camp, he did gain the confidence of a group of Lakota men who allowed the captain to sit with their flint workers from time to time. Smith learned the intricate craft of hand-held rock work from the tribesmen. They also taught him how to read the written language of their rock art. Later that same year, Smith was invited to join a hunting expedition on the plains of eastern Colorado led by fellow soldier and colorful showman Buffalo Bill Cody. 
      Eventually, the captain moved further westward and landed in the town of Delta. He soon befriended the already notorious Ben and Ruby Lowe, who were homesteading in Escalante Canyon at the time. After visiting "The Lowe Place" in the canyon, the stone-carver decided that it would be here among the red rocks where he would build his home. At 65 years of age, and functioning in only marginal health, Smith began moving rocks and clearing sagebrush in a nearby field. He diverted water, planted his crops and set to work building his home beside a large rock fin, which made a solid wall for his sandstone cabin.   
     Inside the house, Smith carved several niches into the stone to hold his guns, his books and himself. A captain-sized alcove served as his bed. Perhaps it was this rock-hard berth, or maybe it was the cool Colorado night air, but the the aging former soldier's health eventually improved, and he returned to the work of crafting monuments and tombstones – this time for the residents of Delta. However, he declined to open a workshop in the town of  Delta, preferring to work the stone at his home in Escalante Canyon. The captain claimed that he did his best work in silence and solitude. 
      While Cap preferred to work alone, he was still a social man and enjoyed entertaining visitors in his unique home. He built an extra bunkhouse behind the main building and installed a secret room behind a removable bookshelf, which some suggested served as a hidden larder for alcohol, which was prohibited at the time. Among the many guests who frequented the cabin were his wife and one of their sons, who spent most of their time on an orchard in Michigan. Dottie was uneasy living in the isolated canyon, but the family reunited often, and she eventually relocated to the Western Slope.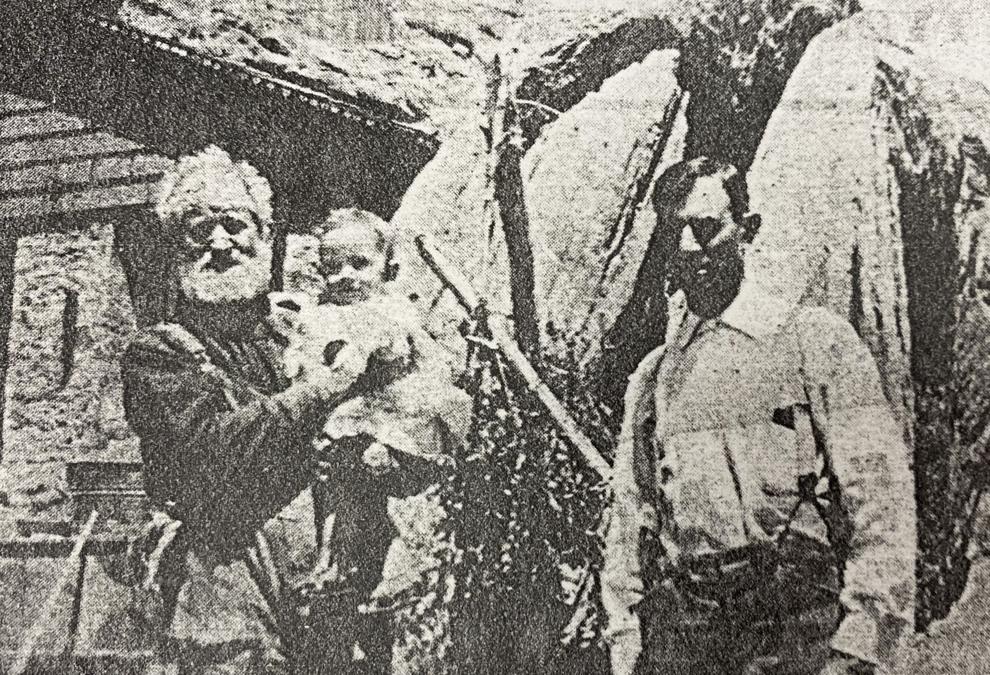 If Captain Smith was known for any one thing, it was his utmost thoroughness in all things. He wrote in working diaries where he kept records of crop plantings, grocery lists, work orders for gravestones and poems about love and hate alike. He also lamented often about the tranquil peace and natural beauty he found in the canyon. His notebooks contained directions for everything from "sower" pickles to sour-mash whiskey. There were notes on how to make a homemade machine oil and instructions for tanning leather. Many excerpts from his diary were published in local newspapers several years later to the delight of homemakers and handymen alike 
     Friends believed that the captain had intentions for the cabin in Escalante to be his final resting place, but, at the age of 92, Smith passed away unexpectedly while visiting one of his sons in California, and his body was laid to rest there. The rock cabin and outbuildings in Escalante are still stand today but have taken on considerable damage from vandalism and deterioration wrought by the elements over the years. The Interpretive Association of Western Colorado is working with History Colorado to preserve the site.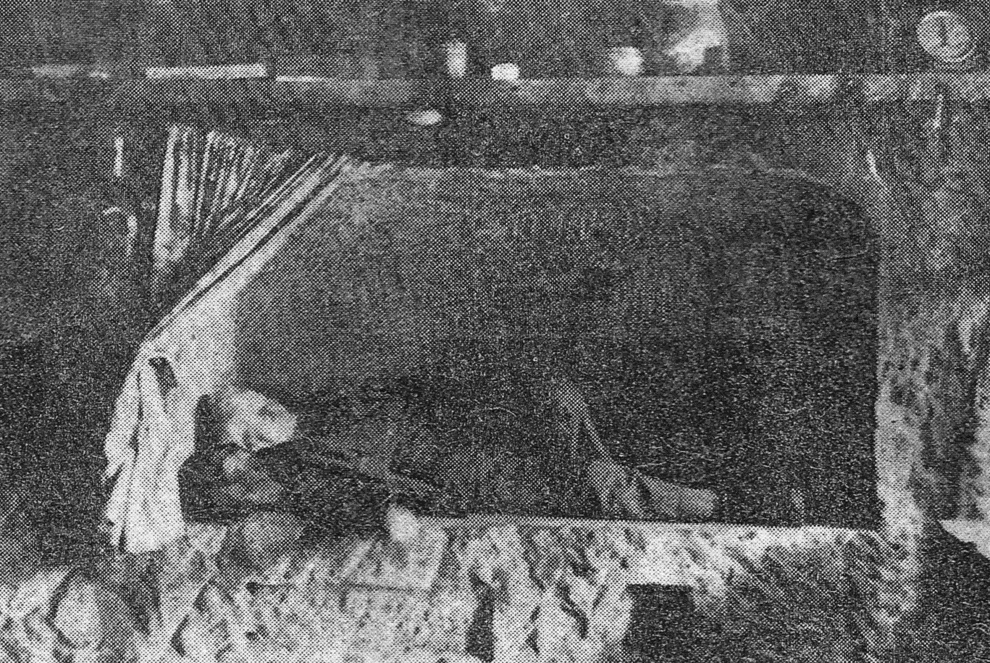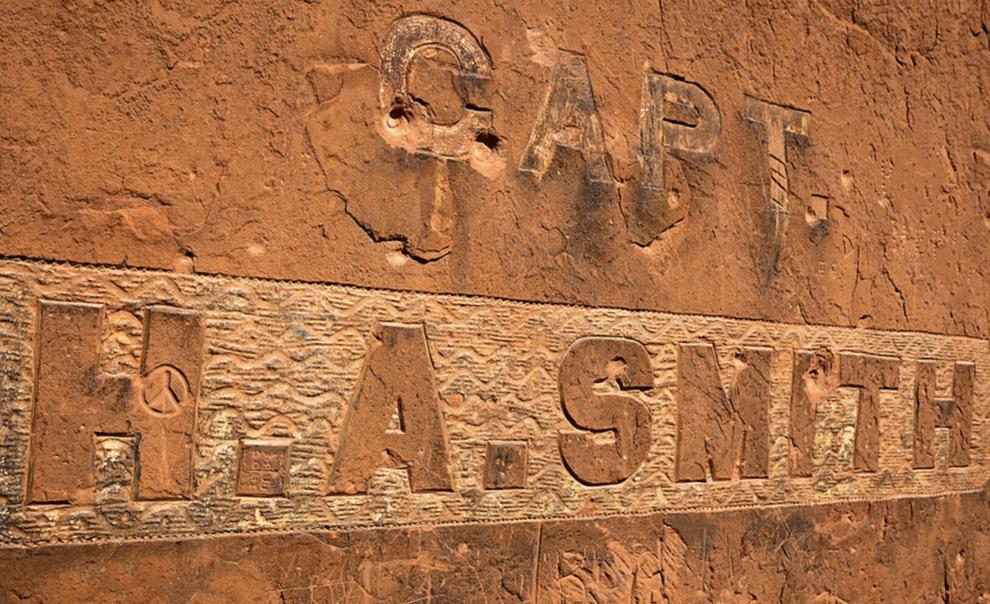 High above the cabin on the natural canvas of the red cliff face, Smith carved an emblem of a horseshoe with a star at its center. The symbol was the signature brand of the late R. Bowen, a local blacksmith. Above the sign, he carved Bowen's name as an elegy to his friend. No one else was around to carve Captain A.H. Smith's name into the red sandstone of Escalante. Fortunately, in his thoroughness, he had the foresight to complete the task himself. Sometimes, when the wind stills itself in the canyon, you can hear the captain's chisel as he works in quiet solitude.
You can check out Captain Smith's cabin, which sits about 31 miles from 32 Road and U.S. Highway 50. A few miles before the Smith cabin you will pass the remains of the Walker cabin, which represents a more traditional log and mud-constructed dwelling. Continuing past Captain Smith's place, will bring you to Table Rock, where Ben and Ruby Lowe made their home.