Sarah Henderson is a native to Delta County, Colorado. She grew up in a cattle ranching family outside of Hotchkiss and spent her youth learning to ride, hunt and fish in the North Fork and beyond. But the not too distant mountain peaks that surrounded her always seemed to call to her. In 2014, she answered the call and climbed to the top of Mount Sneffels, a 14,157-foot-high peak in the San Juan mountains. She didn't know it at the time, but this climb would not be her last. In fact, she wouldn't rest until she topped every "fourteener" in the state. 
      Although it wasn't a conscious decision to bag all fifty-eight fourteeners in Colorado in the beginning, the calling soon became her passion and she tackled more and more each summer. Her adventures are immortalized in photographs on the wall of her store and she tells stories of encounters with mountain goats, torrential rainstorms, rockslides and lightning strikes, all of which gave Sarah a healthy respect for each mountain she encountered. 
      Somewhere along the way, she also gained an understanding that having the proper gear made each successive climb all the more enjoyable. This progression is evident in the collage of photos that document her climbs. Tennis shoes and jean shorts gradually gave way to lightweight boots and climbing gear. While she soloed several peaks, she also shared her adventures with friends along the way and recently took a senior neighbor on his first climb to the top of Uncompahgre Peak. This passion to share her knowledge and adventures eventually found her opening her own outdoor store.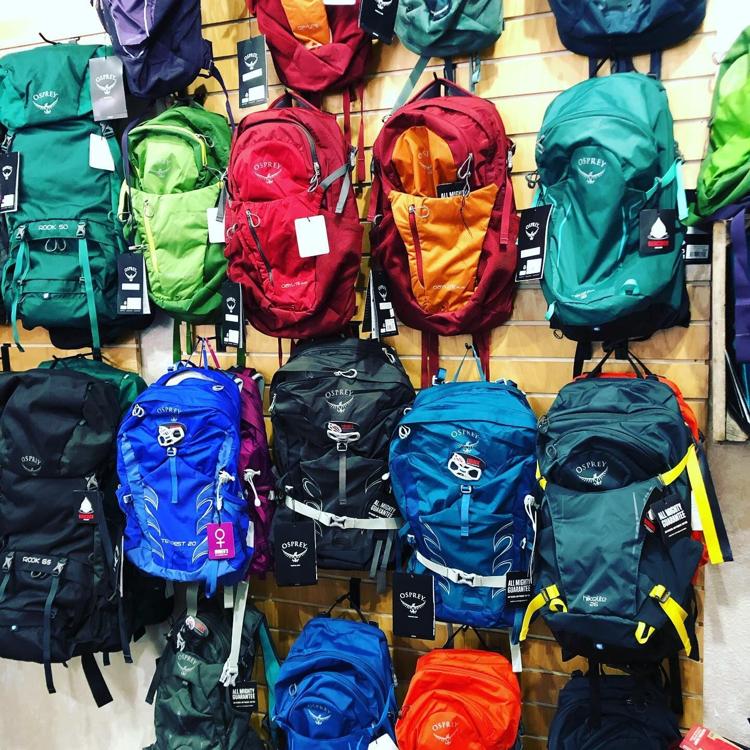 Having moved from her ranch on the Muddy tp the Surface Creel area when her kids reached school age, Sarah was poised to plant her store in the perfect location for folks exploring Grand Mesa. Grand Mesa Outdoors is the only outdoor shop in Delta County and it's located near the intersection of scenic Highway 65 and Main Street in Cedaredge. She opened her store, which offers a bit of everything for hunting, fishing, backpacking and more, in November of 2019 and although the timing may not have been ideal, she has weathered the winter and the challenges of COVID with support from locals and tourists alike. 
      Grand Mesa Outdoors carries a wide variety of merchandise for just about any outdoor enthusiast and does a fair amount of business renting paddleboards in the summer and cross-country skis in the winter. She even has started tying her own flies, which have become so popular that she can't keep them on her display counter. She plans to work double-time this winter to prepare for next spring's hatch. 
      Sarah claims that at least 80 percent of her clientele is headed for the Grand Mesa, no matter the season, and although the biggest flat-topped mountain in the world is in her back yard, she admits that she is not as familiar with it as she would like to be. She has vowed to explore its many lakes and myriad of trails, product testing and gaining more knowledge to share with her customers. One thing is for certain, if she has set her mind to this task, she won't stop until she has left no stone unturned on the mesa. 
 Check out Grand Mesa Outdoors for yourself at 105 W. Main Street in Cedaredge.