If you've been waiting for a garden center that specialized in regional, drought tolerant plants and trees that could transform your yard into an edible oasis, then your wait is over. On April 1, Oasis Nursery opened its gates to the public. The ever-evolving garden center offers trees, shrubs, perennial flowers, grasses, and more. Their stock is hand picked to thrive in our unique growing zone, and the owners are happy to share their comprehensive knowledge of all things green, ensuring the success of any project. Wind Clearwater and Amber Kleinman are longtime friends, and their complementary gardening experience makes them the perfect business partners. Their mission is to help residents in Delta County transform mundane water-hungry lawns into idyllic edible landscapes. 
     Ten years ago Amber and Wind operated a small nursery together, with Amber focusing on annual production of vegetables and Wind tending to perennial plants and shrubs. The two eventually diverged into other projects, and life, as it tends to do, eventually took them in different directions. Fast forward to 2020 when Jeff Schwartz, local entrepreneur and owner of Delicious Orchards, approached Clearwater about the possibility of partnering and opening, of all things, a nursery in the field adjacent to his store and restaurant on Highway 133. An agreement was made but under the condition that Clearwater could bring in his trusted business partner.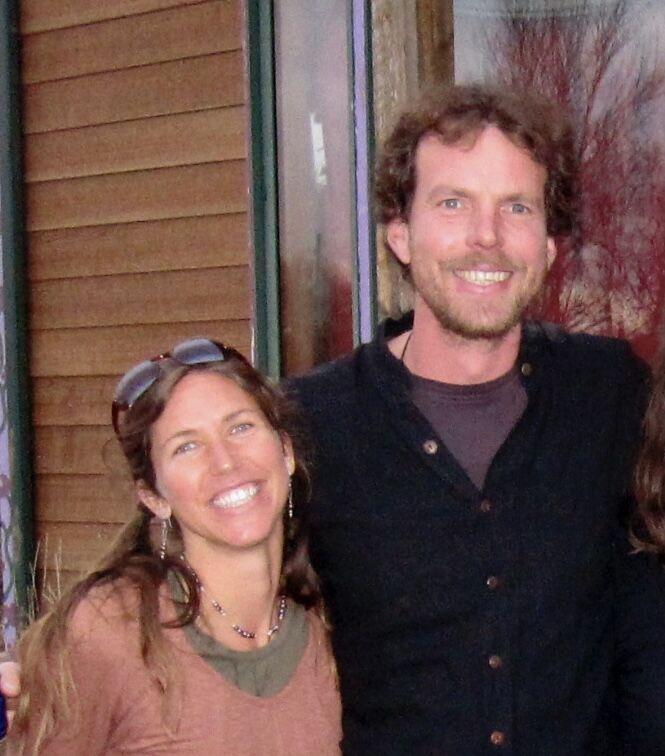 Plants are Kleinman's first love, and the opportunity was a no-brainer for her. The timing was right, as COVID had put the breaks on traveling, a necessary component of her occupation as a stage manager for music productions. Each of the co-owners brings their own unique expertise to the nursery. Wind has 20 years of experience with all things landscaping, and Amber's knowledge of edible and medicinal plants is extensive. The two interact well with Jeff, who is very supportive of their endeavor, and all three have enjoyed collaborating on realizing the vision for the development of the property adjacent to the orchard. 
     A showpiece garden, intended to greet visitors to the nursery with a flourish of flora, will be a constant work in progress on the garden center's east side. There are  plans to lay out a lavish botanical garden planted in a landscaped arboretum style where people can see how various plants and trees will look in a thriving garden setting. All of the plants will be labeled so visitors can better understand how each species will mature in the landscape. The inviting space, complete with water features, will encourage people to take in the greenery, and maybe even find a nook in the shade for a place to enjoy lunch.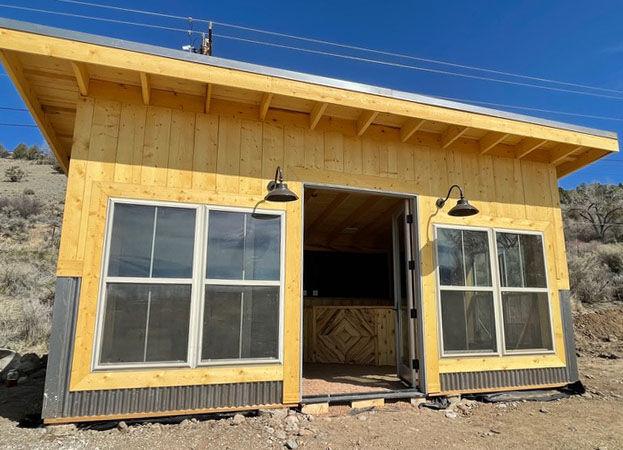 The remainder of the sizable yard will eventually be filled to brimming with a variety of stock. The main focus at Oasis Nursery is on trees and shrubs with a wide selection of edible flora. The stock at Oasis is handpicked to thrive in our somewhat challenging growing area, and they offer an extensive collection of native, drought-tolerant plants. The center carries a wide variety of fruit trees as well as several edible and medicinal plants. Other offerings include vegetable starts from nearby Thistle Whistle Farms and seeds in bulk through the Arkansas Valley Seed Company. Dryland grasses, wildflower seed mixes, and more are also here to help you with your outdoor project. 
     One aspect that will set Oasis apart from other garden centers in the area is an emphasis on education. Wind and Amber plan to offer workshops, classes, and even host a plant chat, designed to help people learn the local secrets of gardening and permaculture on the Western Slope, empowering area homeowners to cultivate edible plants in their own landscapes and become more connected with their yards. These classes will teach irrigation and dryland gardening, among other subjects, and will host guest speakers from time to time. The goal is to provide a retail space with an excellent selection of plants and an educational forum designed to help people convert their lawns to resilient, natural gardens that will grow with minimal watering. 
     Oasis Nursery will be a large part of the lower field's ever-evolving landscape at Delicious Orchards. The nursery itself will continue to grow throughout the summer as, all told, around 10,000 plants will be brought in. Perennials, shrubs, and a cornucopia of fruit trees will eventually dominate the yard. The green-thumbed visionaries are confident that the timing for their venture in the North Fork Valley is ripe. Oasis is the only Delta County garden center to offer a comprehensive variety of edible stock. Most importantly, Kleinman and Clearwater are doing what they love - encouraging neighbors to make connections with nature and offering residents an opportunity to create a landscape that will transform their yards into an edible retreat just outside their door.