Farming in the midwest during the 1920s received a boost from gasoline-powered tractors and combine harvesters. Unfortunately, the rapid mechanization of farm equipment led to the destruction of natural grasslands on the plains of Kansas, Oklahoma, and Colorado. When severe drought took hold of the region in the 1930s, the unanchored soil dried to dust and took to the sky, forming massive black clouds. These "Black Rollers" traveled the entire country and the event, known as the Dust Bowl, wreaked havoc on farming communities already hard hit from the economic fallout of the coinciding Great Depression.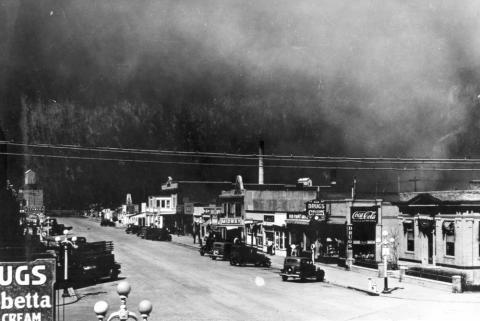 The erosion and drought continued throughout much of the 1930s and affected an area of more than 100 million acres, forcing tens of thousands of suddenly destitute, poverty-stricken families to leave everything behind and abandon their farms to search for work. In all, more than 500,000 Americans became homeless in a few short years. Many families made their way west only to find that the Depression had beaten them there and opportunities in California were scarce.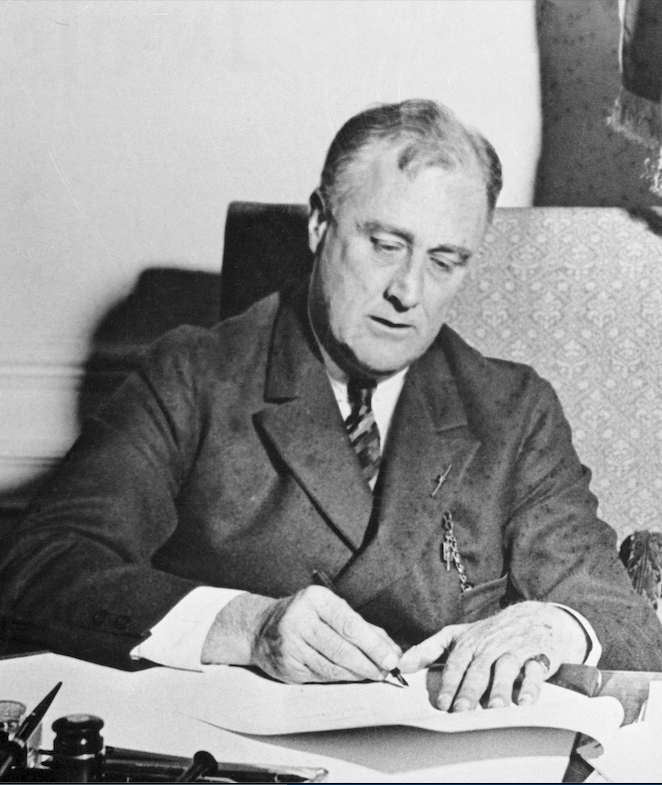 Franklin D. Roosevelt immediately began to devote resources to soil conservation and developed several New Deal programs specifically dedicated to relieving many hard-hit families. One office created was named the Federal Resettlement Administration and was tasked with relocating these families to other, more fertile, areas where they could farm once again. Several government-built farmhouses were constructed in the San Luis Valley and Mesa, Montrose, and Delta counties on government-owned land. 
     Directors of the program were quick to point out that this was not a "relief program" because families were expected to repay loans on an amortized repayment schedule over 33 years. Each farm was built on at least 50 acres and contained a modest but comfortable farmhouse, outbuildings, and even came with farm equipment, livestock, and seed. The Uncompahgre Valley was considered to have great agricultural potential at the time and became one of the top choices of Resettlement officials.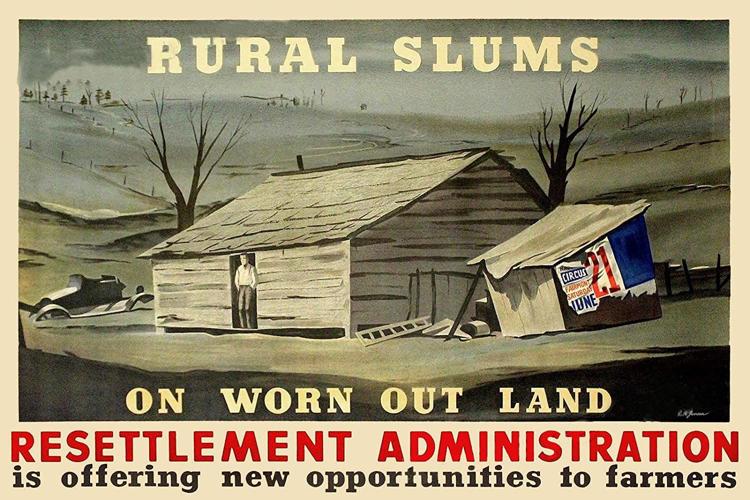 In 1936, fifty families were chosen from a lengthy list of candidates to settle the area of Montrose and Delta County known as California Mesa. The majority of these farms were located along Highway 348 and encompassed more than 3,000 acres. The government built farmhouses and identically constructed outbuildings. Each property contained the same chicken house and barn, and each offered at least forty acres of farmland and twenty acres of pasture. 
     Many of the original families that came to settle on these lots made the Western Slope their home. The farms they tended still thrive today and several of their descendants still call Delta County home. There are folks around today who remember living in what they refer to as the Dust Bowl houses. Ronda Connaway and her family were a part of the resettlement program. She was five when their family pulled the trailer holding all their belongings and the family dog over Old Monarch Pass in January of 1938.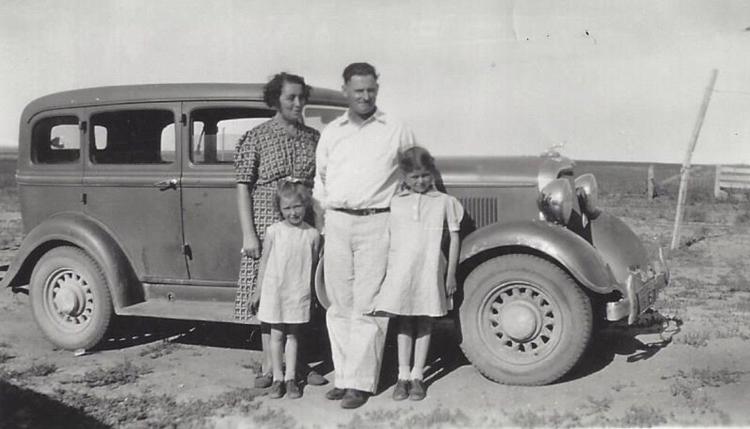 Her parents left behind a ruined farm outside of Stratton Colorado. They became a part of what Ronda has since come to understand as the "experimental" resettlement program. She has vivid memories growing up in the government-built farmhouse and attending the nearby Mountain View School. Ronda witnessed the paths of many of the children from those families and is now able to reflect on the measured success of the program. Many became influential and integral citizens of Delta County and beyond.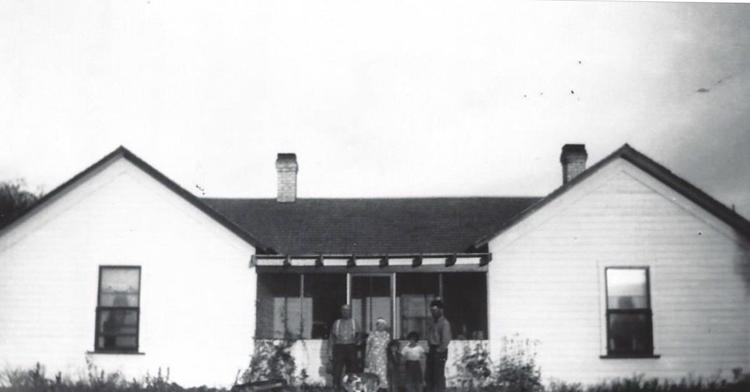 Lawrence Heckenlively also grew up down the road in another of the resettlement homes. His family came from Nebraska where his mother told stories of blankets hung over the windows to keep the dust out. He also sees the program as successful, not only regarding the productive citizens that resulted but for the land itself. Much of the 3,000 acres set aside for the program on California Mesa consisted of abandoned, weed-filled fields when the new residents arrived. Today it is some of the most highly desirable farmland on the Western Slope. 
     A handful of the original homes and outbuildings still stand today as a testament to the experimental Resettlement Program. Several have been modified and updated but still rest along Highway 348 outside of Delta. More than one was relocated downtown and two of these homes still stand adjacent one another on the 1100 block of Grand Avenue. With the prospect of an uncertain economic future from a less than auspicious start to 2020, one might wonder if another New Deal may be in store for some families.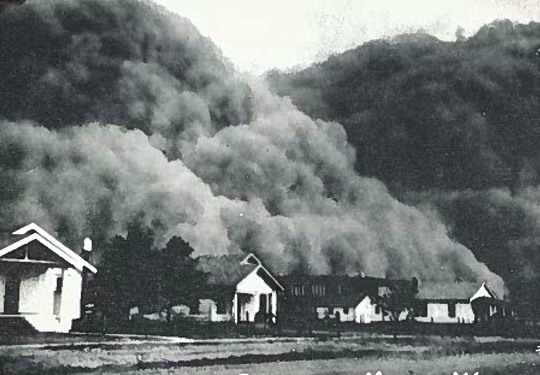 Special thanks to Lawrence Heckenlively and Ronda Connaway for their stories, and Orval Proctor, who also lived in one of the homes, for gathering information and bringing this story to light. As always, thanks to Jim Wetzel and the Delta Historical Museum. Below is a list of the original families that first settled California Mesa in the "Dust Bowl Homes" in the 1930s. 
 Delta County Resettlement Members:
Elmer Ball, Leonard Beach, Lester Bettis, Guy Bond, Fay Calhoun, The Conger Family, Joe Connaway, John Connaway, Albert Crites, John Crites, Henry Dillihay, Anton Dinger, Doc Duncanson, John Easter, Harley Eckert, Elvan Fix, Wesley Garretson, Sam Guinn, The Guthrie Family, Harold Hanson, Thad Hanson, George Harper, R.O. Hays, Fay Hesser, George Hill, Shelby Holton, Floyd Ishael, Lawrence Heckenlively, Les Huff, Stanly Kessler, Chester King, Jimmy Kotch, Troy Lane, Nels Larsen, W. Lentz, The Liming Family, Earl Lucke, G. Marksberry, Lynn Marksberry, Fay Marts, Joe McDonald, Vane McGraw, Orville McGraw, Claude McKinnon, Clyde Miller, Glen Nelson, John O'Neal, Roosevelt Orth, Clyde Palmer, Ole Peterson, Ora Poundstone, The Robb Family, W. Ruch, Chester Rusk, Orval Schull, Clarence Silver, Jay Walker, Joseph Williams.