One of the most unique specialty shops in Paonia has recently moved to an old familiar place on Grand Avenue in Paonia. True West Hats offers hand-made, heirloom, quality hats. They can be found at 210 Grand Avenue in what was known for years as Pete's Barber Shop. The hatmakers there each have unique backstories and are happy to have landed in Paonia. Their exclusive brand of custom-made hats fits the individual style of folks like, well… a hat. 
     Charlie Selman grew up in Michigan and opened one of the first snowboard shops in Colorado in the 1980s. He and his partner April, who left her big city life for the mountains have also lived in Mexico, Chile, and Argentina where they have been raising their two daughters before the family decided to return to Colorado. April found herself working for a high-end western wear company and while researching products to manufacture, found hats to be front and center, marking the beginning of a journey that would lead them to their True West.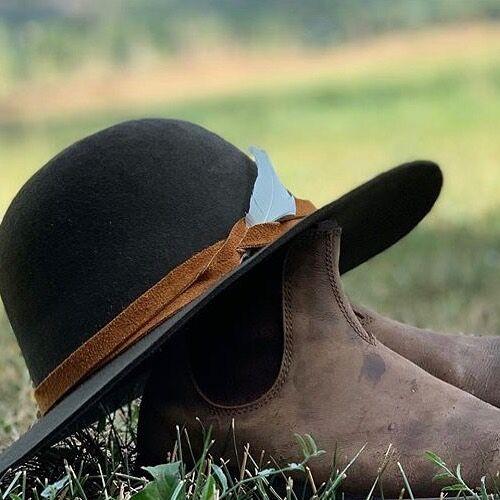 April and Charlie both journeyed to Utah and eventually Tennessee to study under master hatmakers there. Charlie took to the craft instantly, drawing on his inherent technical and artistic skills. The two decided it was time to open their own shop. All that was missing was a place to call home. Having outgrown the desire to live in Aspen, they began to look for a place that had a similar laidback lifestyle to their home in South America. Charlie claims that Paonia is about the closest thing anywhere in the states and they made it official in March of 2017. 
     After opening their shop, they wisely hired Sarah Peterson, a creative hatmaker who has been sewing since childhood. Sarah is as passionate about upcycling and using sustainable textiles as she is about fashion. Together the team creates one-of-a-kind, custom designs that won't be found elsewhere. They have decidedly focused on making hats for the everyday person and try to tailor-make their functional, and subtly fashionable, pieces to fit the personality of each individual wearer. 
     True West Hats can be found online but their expertise lies in the custom design process. Finding the right hat is a very personal experience and doesn't necessarily lend itself to online shopping. Choices like color, brim size, and shape all matter to the individual, and besides, who actually knows their own hat size? The team at True West Hats has found their niche and they are there to help you find your perfect hat. Stop on by and experience slow fashion at its best and walk away with an extension of yourself. 
True West Hats is located at 210 Grand Avenue in Paonia. They can be found online at TrueWestHats.com